NTA UGC NET Exam Dates | June 2020 Exam
Exam Dates of UGC- NET JUNE 2020 Exam
Important Information and Dates at A Glance
On behalf of University Grants Commission (UGC), the National Eligibility Test (NET) is conducted  By NTA (National Testing Agency)for determining the eligibility of Indian nationals for the Eligibility for Assistant Professor only or Junior Research Fellowship & Assistant Professor Both, in Indian Universities and Colleges.
Notification of UGC NET 2020 June:  On behalf of the National testing agency, University grant selection has declared the application form of National Eligibility Test 2020 June examination. This examination will be conducted in the date range of 15 June 2020 to 20 June 2020. Now, you do not stay away from the golden opportunity to get the junior research fellowship and assistant professors in Indian universities according to their position in the merit list. Take the through the look of the notification of UGC net 2020 June advertisement in both online and offline forms.
Till June 2018, the CBSE conducted the NET in 84 subjects at 91 selected Cities of spread across the country. Since Dec 2018 onwards, the UGC- NET is being conducted by the NTA.
UGC NET EXAM DATES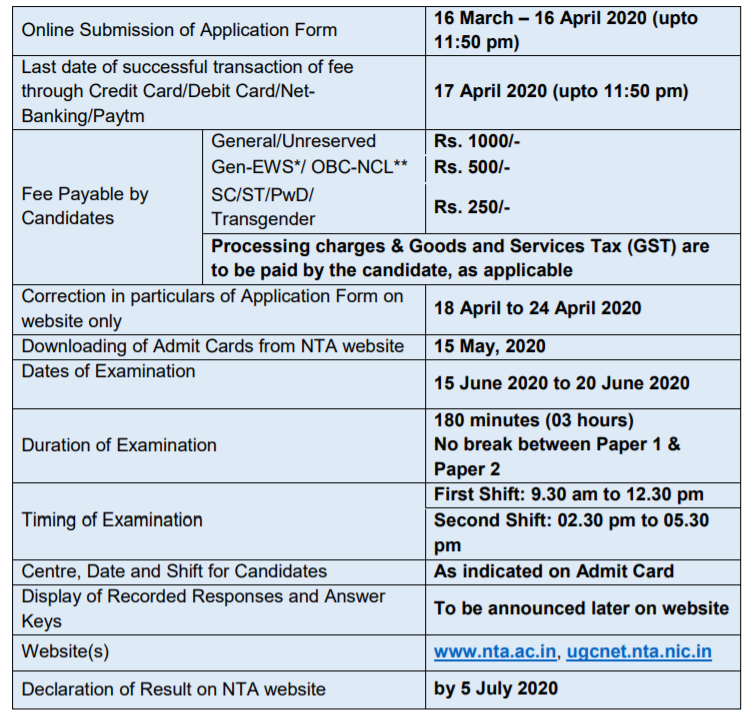 Examination 2020 Information Bulletin