NTA UGC NET Application Form 2020
Information Bulletin UGC NET 2020 Exam 
NTA UGC NET Application Form JUNE 2020
The National Testing Agency (NTA) will conduct the UGC NET in June and online registration for the Assistant Professor and JRF eligibility has started on the portal from March 1st.  As per latest notification there will be two papers and both the papers will be conducted in a single three hour duration.
Like in December, NTA would be conducting the UGC NET 2020 examination over multiple days. 
The eligibility criteria would remain the same as was for UGC NET December 2019 examination.
University Grants Commission (UGC) has already released the updated syllabus of National Eligibility Test (NET) and the new syllabus will be applicable from June 2019 exam on wards .
Check official notification here.
UGC NET 2020 EXAM FORM LIVE NOW !
[There Will be no 30 mins gaps in June 2020 exam  between paper 1 & paper 2 ]
NET exam will be held from 15 June 2020 to 20 June 2020 in two shifts and results will  be announce the UGC by mid July.
Important Information and Dates at A Glance
Candidates can apply for

UGC-NET June, 2020 "Online" only
Submission of Online Application Form may be done by accessing NTA website www.ntanet.nic.in
The Application Form other than online mode will not be accepted & Only one application is to be submitted by a candidate
Candidates must follow the instructions strictly as given in the Information Bulletin and on NTA website. Candidates not complying with the instructions shall be summarily disqualified.
Candidates must ensure that e-mail address and Mobile Number provided in the Online Application Form are their own as all information/ communication will be sent by NTA through e-mail on e-mail address or SMS on given Mobile Number only.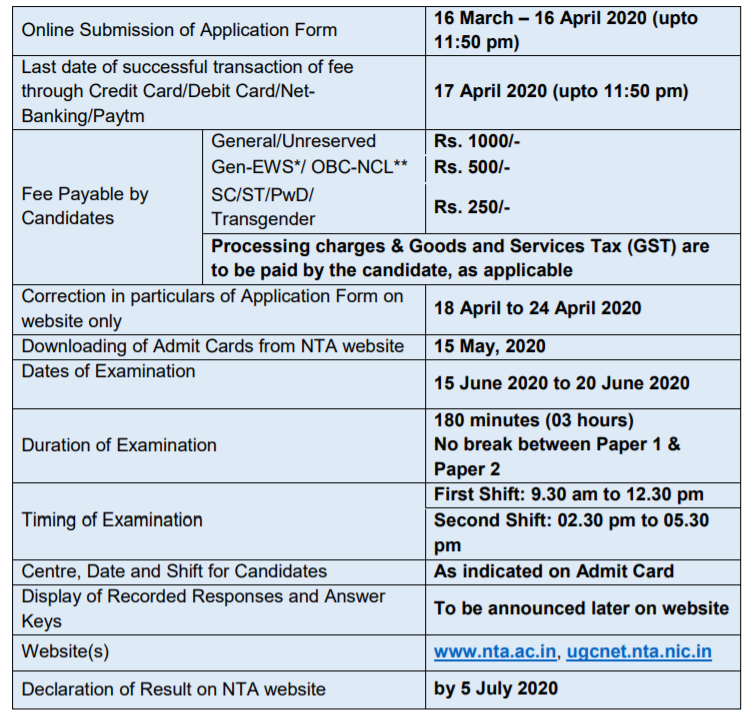 Instructions for filling Online Application Form
Things to keep in mind while filling the NET examination form 
Candidates are advised to read the Information Bulletin carefully and go through the instructions regarding filling of Online Application Form given on UGC-NET 2020 website www.nta.ac.in, www.ntanet.nic.in before starting online registration.
Candidate should ensure that all information entered during the online registration process is correct.
Online information provided by candidates like name of candidate, contact/ address details, category, PwD status, educational qualification details, date of birth, etc during online registration for UGC-NET 2020 will be treated as correct/final and NTA will not entertain, under any circumstances, any request for change in information provided by the candidates.
NTA disclaims any liability that may arise to a candidate(s) due to incorrect information provided by the candidate(s) during online registration process.
NTA does not edit /modify/alter any information entered by the candidates after completion of registration process under any circumstances. Any request for change in information thereafter will not be entertained.
Therefore, candidates are advised to exercise utmost caution for filling up correct details in registration system.
Informat
ion Bulletin UGC NET 2020 Exam 
(Note – Information Bulletin has been kept here for ease of student.. You should follow the official link in case of any changes or amendments in  uploaded document. This is for information purpose only- You can download it from official link Information Bulletin JUNE 2020 Exam–)